Accommodations
We have blocks of rooms for QFS2018 participants in the following hotels until June 22 (Fri), 2018. Reservation can be made from the Registration page after paying the registration fee.
Three-night minimum stay required.
Pay at each hotel on check-in.
All rates shown below include taxes.
Rooms which do not appear in the pull-down menu at the Registration page are sold out.
Cancellation policy
Until June 22 (Fri), you can cancel or change (if another room is available) the reservation at the Registration page free of charge. After then, you can do so only by sending an e-mail request to qfs2018@kelvin.phys.s.u-tokyo.ac.jp. In the case of cancellation, we will charge the following cancellation fee on your registered credit card (based on the receiving date of the e-mail):
From June 23 until two days before the arrival day: 20%.
One day before the arrival day: 50%.
On the arrival day: 100%.
Nearest to the conference site (6 min walking mostly within the univ. campus). Quiet, clean and cozy hotel with a good restaurant.

Single (16‒18 m2)group rate

Waking access to the conference site within 13 min. Reasonably priced clean and functional rooms. Washing machines (coin laundry) are available.

Single (11 m2)group rate

Waking access to the conference site within 15 min and to Keisei Ueno Station within 4 min offering convenient access from/to Narita Intl. Airport. Stylish rooms with views of Shinobazu-pond fully covered by lotus flowers and leaves.

Superior Single (12 m2), Deluxe Single (16 m2), Superior Double (14 m2), Superior Twin (22 m2)group rate

23 min by walking or 13 min by subway to the conference site. Close to the Ueno railway stations (within a 5 min walk) offering convenient access from/to Narita Intl. Airport. Spectacular views of the city of Tokyo from all rooms. A little-known place where one can privately view the Sumida River Fireworks Festival (expected on July 28 in 2018). Opened in February of 2016.

Smart Single (13‒15 m2), Standard Single (17 m2)*group rate

*can accommodate two persons (double-bed)

Waking access to the conference site within 12 min. Tokyo Dome City (amusement and ball parks) is across the boulevard. Enjoy the convenient location and services. Opened in August of 2014.

Moderate Single (18.3 m2), Moderate Twin (24.4 m2)group rate

16 min by subway to the conference site. 10 min walk to JR Tokyo Station, the central station of Tokyo. Featuring a variety of activities from urban life to walking/jogging around Imperial Palace that is full of greenery. Clean and functional rooms.

Single (12 m2)group rate

Waking access to the conference site within 14 min. Large scale hotel with clean and functional rooms and good restaurants. Also close to the Akihabara Electric Town (12 min walk).

Single (13 m2), Deluxe Single (17 m2)**, Twin (20 m2)**group rate

**smoking
Hotel map
pdf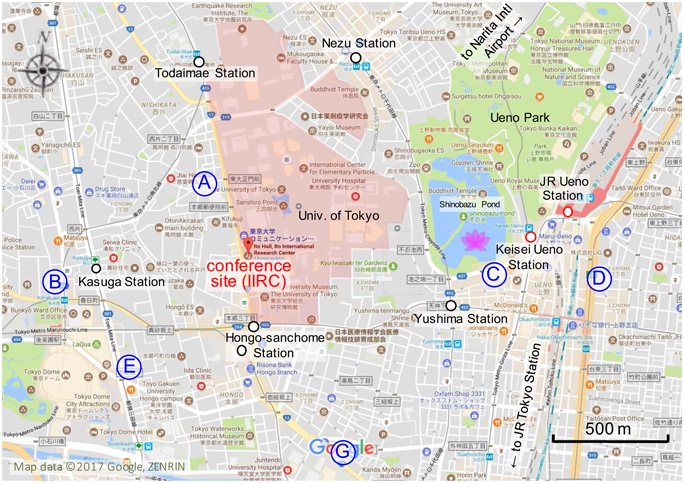 (A)

Forest Hongo

(B)

Toyoko Inn Tokyo Korakuen Bunkyokuyakusho Mae

(C)

Hotel Coco Grand Ueno Shinobazu

(D)

Life Tree Ueno Hotel

(E)

Richmond Hotel Tokyo Suidobashi

(F)

Keio Presso Inn Otemachi

(G)

Tokyo Garden Palace